IBM i (AS/400) Green Screen Web Enablement & Modernization
Presto is the fastest way to give your IBM i green screens and new RPG programs a modern web GUI using the 5250 datastream or RPG Open Access. It also gives you endless opportunities to add new functionality.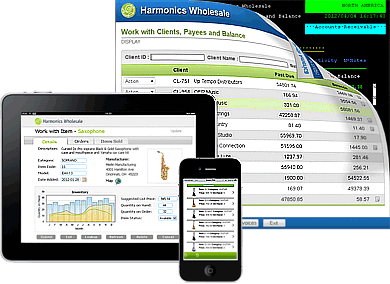 What you can do with Presto

Modern Web GUI
Keep your IBM i relevant in the eyes of end users and management by giving your existing green screens and new RPG programs a web GUI.

New Functionality
Make users more productive by adding drop down boxes, tabs, datepickers, images, charts and more to your web-enabled screens.

Mobile Access
Access all of your web-enabled green screens internally or remotely from iPads, iPhones, and other tablets and smartphones.
Why Use Presto?

Quick Results
All of your existing green screens are instantly accessible as modern web pages. You can also use RPG Open Access to give your new RPG programs a modern web GUI.

No Code Changes
You don't need to make any changes to your RPG (II - IV), COBOL or DDS source using the 5250 datastream approach. Your proven code is left untouched and your green screens are still available to users who prefer them.

Improve Look and Functionality
Enhance your screens by using the Visual Editor to add new UI elements like drop down boxes. You can also edit the underlying HTML and extend screens beyond the 5250 datastream with Presto's SQL query feature.

IBM i Programmers Succeed
Programmers without HTML experience are productive right away using the Visual Editor to enhance screens.

User Satisfaction and Productivity
Users will love the more visually appealing and intuitive screens. Web UI elements like datepickers make it easier to enter data and reduce training costs.

Easy Deployment and Access
Your IT staff saves time because end users only need a browser to access the screens internally or remotely from PCs, Macs or mobile devices. No ActiveX, Windows Servers, WebSphere, 5250 emulators or other software are required.

Presto is available as a standalone solution or as part of BCD's modernization suite that includes WebSmart (new web app development), Clover Query (web-based reports), Catapult (report distribution) and Nexus Portal.

Affordable Licensing
Choose the licensing option that works best for your organization. Base or unlimited user pricing available.